2019 Florida Breastfeeding Coalition, Inc. Biannual Breastfeeding Conference
"Bridging the Gap – Duration"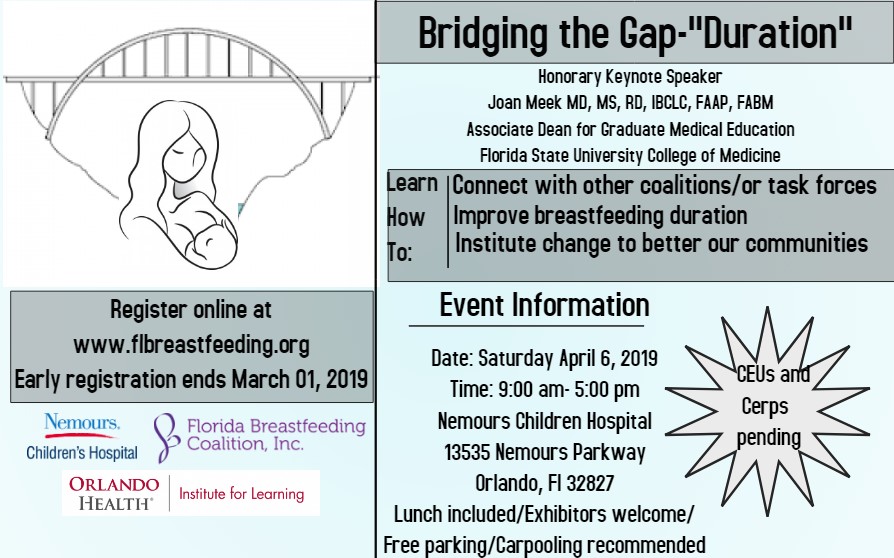 Location:

Nemours Children Hospital Orlando, Florida
13535 Nemours Pkwy, Orlando, FL 32827
Get Directions 
Keynote Speaker:

Joan Meek, MD, MS, RD, IBCLC, FAAP, FABM
Associate Dean for Graduate Medical Education
Florida State University College of Medicine
Features:
Exhibitors welcome
Free parking & Lunch included
CEU's and CERP's applied for
We Welcome:
Breastfeeding Coalition & Task Force leaders • Physicians & Nurses • Lactation Consultants/Counselors • Educators
Registered or Licensed Dietitians • Childbirth Educators • Doulas
La Leche League Leaders • Healthy Start & WIC Employees • Students
Learn how to:
Sustain breastfeeding friendly communities
Connect with other coalitions or task force
Institute change to better our communities
Wingate Wyndham Airport
Located 16 mins away from the conference location
5750 Hazeltine National Drive, Orlando, FL, 32822
$129 per night includes breakfast
Call 407-826-5258
Group code is 040519FLO under "Florida Breastfeeding Coalition"
Can reserve up to 1 week out
Exhibitor and Sponsor Information
2019 FBC Conference Itinerary

8:00 AM

Registration & Exhibitors

9:00 - 9:15 AM

Welcome

9:15 - 10:15 AM

Keynote Speaker - Dr. Joan Meek

Why longer is Better*

10:15 - 11:15 AM

Duration prior to discharge*


Bridging the Gap:


Improving Exclusive Human Milk Feeding during hospitalization.
Providing Donor Human Milk for Newborns in the postpartum setting
Marcia Schulz, MS, RNC-OB, IBCLC

11:15 AM

Break & Exhibitors

11:30 - 12:30 PM

Short term duration*


Insights and conversations into a Baby Friendly Journey
Martha Lasley & Annette Leary, RN, BSN, IBCLC

12:30 PM

Lunch - Symposium (optional presentations) and Exhibitors

Managed Medical Assistance Pump Program
Untie Me Mommy

1:30 - 2:45 PM

Long Term Duration*


Milking on the Run:

Supporting Breastfeeding Duration in Refugees
Marcda Hilaire MPH, BA, CLC, IBCLC
Staying engaged: Sustainability in lactation relationships
Martha Lasley & Annette Leary, RN, BSN, IBCLC

3:00 PM

Break and Exibitors

3:15 - 4:45 PM

Duration through Public Health Initiative*


Broward County's Story on their Award Winning Program for Best Breastfeeding Rates
Esther Singleton MBA, BSN, IBCLC
The Florida State Health Improvement Plan What's Next for Breastfeeding?
Nancy Faul, BS, RLC, IBCLC, Jessica Gordon PhD, APRN & Krista Schoen MS,RD,LD
Pat Lindsey Coalition Leadership Award Winners - Bridging Duration
Coalition Engagement & Management Strategies
Florida Breastfeeding Coalition

4:45 PM

Closing Remarks
*The following continuing education credits have been applied for CEUs and CERPs
Breastfeeding Conference Policy
NO CHILDREN (ONLY BABY IN ARMS)
– This is a professional seminar and out of respect for the attendees and speakers we are asking that only quiet nursing babies in arms attend. Please plan to sit at back of room to minimize distraction to other attendees and to leave the seminar room if your baby cannot quickly be settled.
SPEAKERS
Speakers and/or topics are subject to change or cancellation without notice.
SPEAKER HANDOUTS
Will NOT be provided at conference but will be provided on the FBC website for attendees to download. They will be up at least one week before the conference for attendees to download if they wish a copy to take to the conference.
CANCELLATIONS AND REFUNDS
For cancellations with a refund, less a $25 handling fee, requests must be postmarked no less than 14 days prior the conference date. Please contact the conference committee via email at flbreastfeedingcoalition@gmail.com for refund information.
LUNCH
Assorted boxed lunches including vegetarian options will be provided at lunch with a drink. If you have a food allergy that needs to be accommodated, please notify the conference committee at flbreastfeedingcoalition@gmail.com.